HOW WE GET YOU ROOFING LEADS
We make your phone ring with prospects who are specifically searching for a roofer in your location
1. Get seen at the top of searches
We get you seen in Google & Bing search for roofing relevant searches. We target searches such as "roof replacement in [your location]" and a ton of other high converting searches.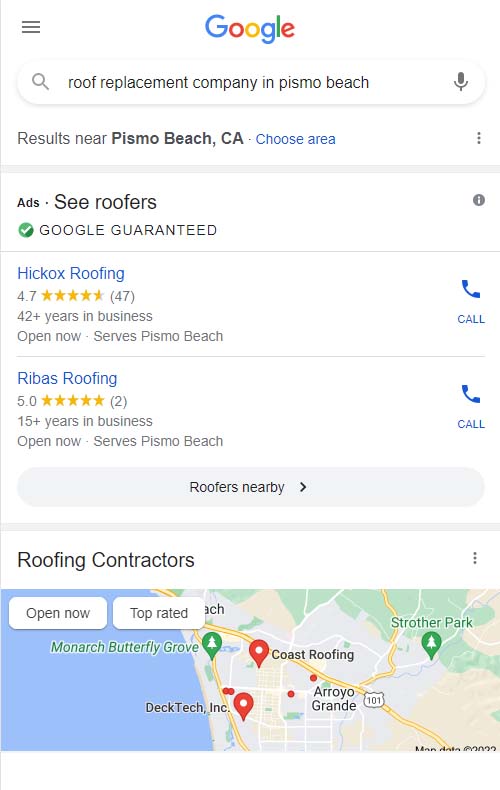 2. Leads are sent to your page
When a lead clicks on your roofing ad, we send them to a landing page all about you and your roofing services and make it easy for them to contact you.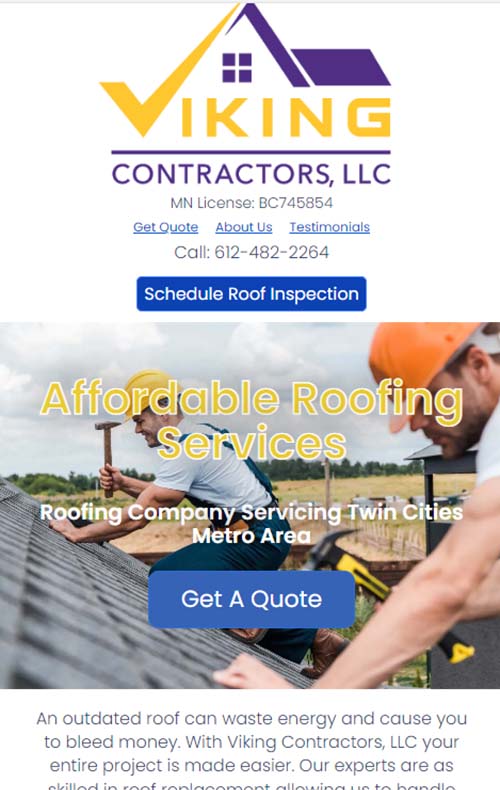 Why Go With The HeyRoofers Roofing Leads Program?
done Exclusive Leads: All leads are exclusive to you and not sent to 10+ other roofers.
done Your Branding: We setup branded landing pages & ads with your company info so prospects know they are contacting you.
done Live Leads: We target people who are searching right now for a roofer and will send you calls and emails as they make contact.
done No Contracts: We do not lock you in! All roofing lead packages are month-to-month with the option to cancel anytime.
done Quality Guaranteed: If any of your leads have invalid contact information or are not looking for roofing services, we credit you.
done Full Service: We take care of landing page creation, pay-per-click ads, tracking, etc. so you can focus on converting your leads.
IS OUR PROGRAM RIGHT FOR YOU?
We turn away many more roofers than we take on. We have strict requirements for the clients we take on because we want to make sure you will benefit and make money from our leads program. If you can answer "YES" to all of the following questions, our program would be a great fit.
done Can you answer calls from leads during normal business hours?
done Can you follow up with email leads quickly?
done Will you follow up with leads in order to increase your conversions?
done Do you have a good local reputation with no or very little bad reviews online?
About Us
HeyRoofers.com provides Roofers with affordable, exclusive roofing leads that have a high conversion percentage. HeyRoofers set ourselves apart from other marketing providers because we focus only on roofing professionals, which allows us to perfect our roofing lead solutions to fit the specialized needs of roofers.
We are a division of Go Smart Solutions, LLC, which has been in business since 2002. Go Smart Solutions, LLC provides marketing, SaaS and eccomerce solutions to businesses. Our services combined have been used by over 70,000 nationwide.
Frequently

Asked Questions

Following are the most common questions & answers about our roofing leads.
How Much Do Roofing Leads Cost?
Low quality, shared leads on average cost between $30 to $50 per lead. We don't generate shared leads because they have a very low conversion.
High quality, exclusive leads can cost $75 to $100+ depending on your location and how competitive it is. Some low competitive locations may be able to get exclusive leads for lower than this but for high quality, exclusive leads you should expect to pay this price point if you want to compete with other roofers in your area.
Can I Get Only Roof Replacement Leads?
Yes, but keep in mind you can potentially be losing a lot of high paying customers by excluding roof repair leads. Our roofing clients that take roof repair leads tend to convert on average 10% of them to roof replacement. A lot of homeowners don't realize they need to replace their roof when they call in for a repair and the top roofing companies we work with understand this and know how to convert these repair leads into roof replacement sales. Roof repair leads are also much less expensive so this is a great way to get much more cost affective leads that convert well.
How Many Leads Can I Get Each Month?
This greatly depends on budget, location, demand and competition in your location. Some locations are very competitive and these locations will require a higher budget (cost per lead) in order to compete with other roofers to acquire a good quantity of monthly leads. HeyRoofers can run an extensive report that will show the demand and competition in your region and from that we can provide you with an estimated monthly lead count and cost per lead.
What Is Your Lead Return Policy?
We accept returns for leads that have invalid contact info (bad email address or phone #) or are not inquiring about roofing services. We track and record everything so we can determine which leads are invalid. All calls are recorded so we can determine if a caller is not calling about roofing services and all emails are also tracked and recorded.
We do not guarantee you will convert all leads or even be able to set appointments with all leads. This will heavily be dependent on your response time, sales skills and follow-up. Our roofing clients that answer calls and emails right away convert a higher percentage of their leads than those who don't. Follow-up (multiple calls and emails) is also key to converting more of your leads.